,
- Thursday, January 20, 2022
Southern California Message Boards
Acton Loop (and yes, pics too...)
Not too long ago, Dave (aka FFW), Deb and I did an easy cruise on the Acton Loop. The nice part about it, is that there aren't any super-suffer-fest climbs, but there's a ton of excellent rolling singletrack, through a wide variety of terrain. The first half is a mix of fun rollers and 'ravine-backs' (switchbacks at the end of ravines, where you're dropping in from one direction, hitting the bottom and going out an uphill in nearly the opposite direction. These are tough to do and take a lot of coordination!).

The second half is pretty technical, with a lot of embedded rocks in the trails. Add junipers on either side to give you a special treat if you geek it. This is where Deb fell and got seriously punctured 12x. The 'Death Chute' is an intimidating section. It is hidden around a blind turn. There is no visual preliminary or set-up. It is a steep, boulder infested bastrd, that transitions to loose, deep sand and jumbled rocks. It took me awhile to clean it and some (wisely) choose to walk it. All in all, we had a great ride (but what ride isn't?).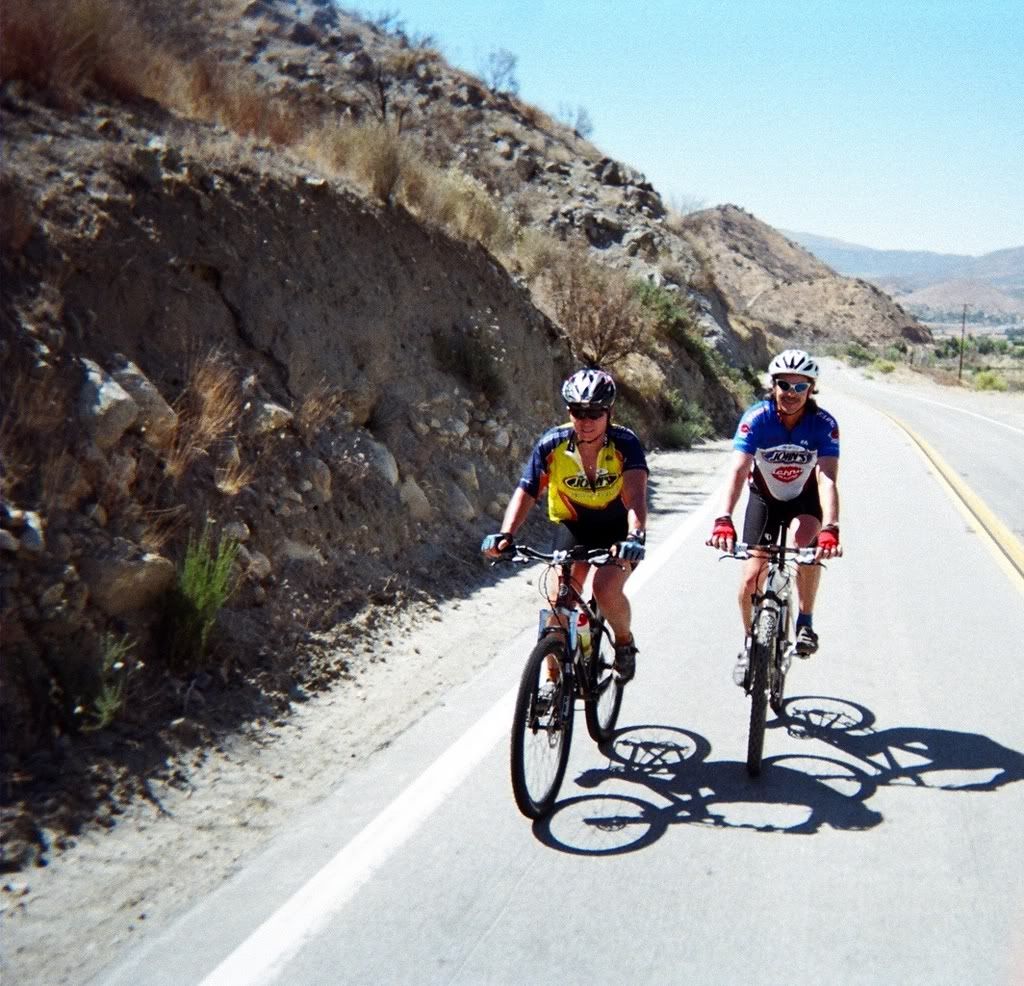 Dave and Deb on the road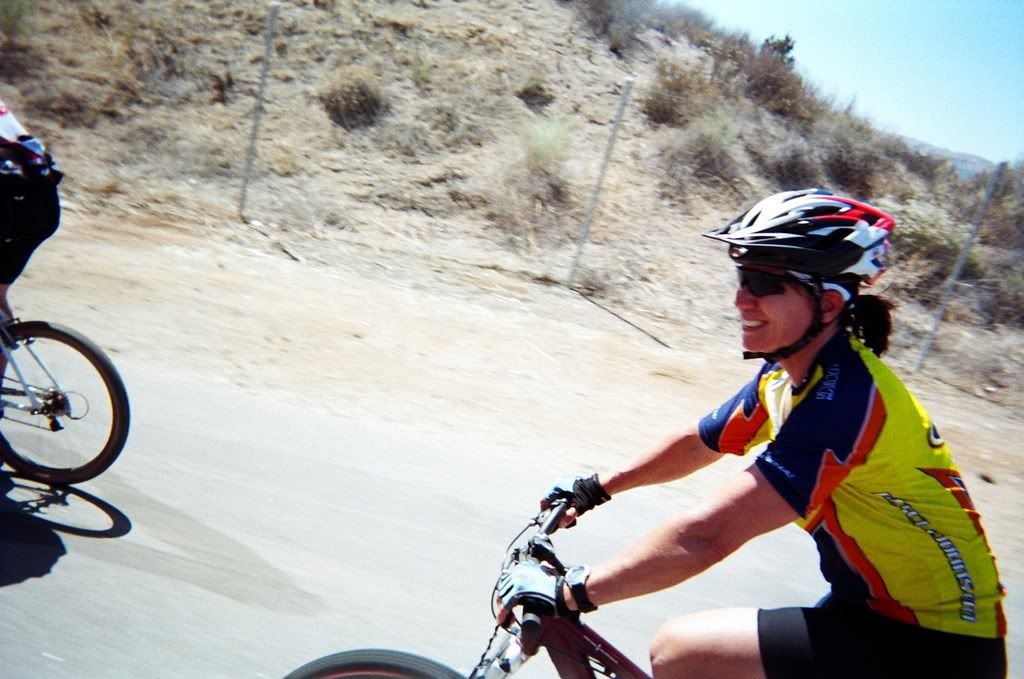 Deb cruising along

Yours truly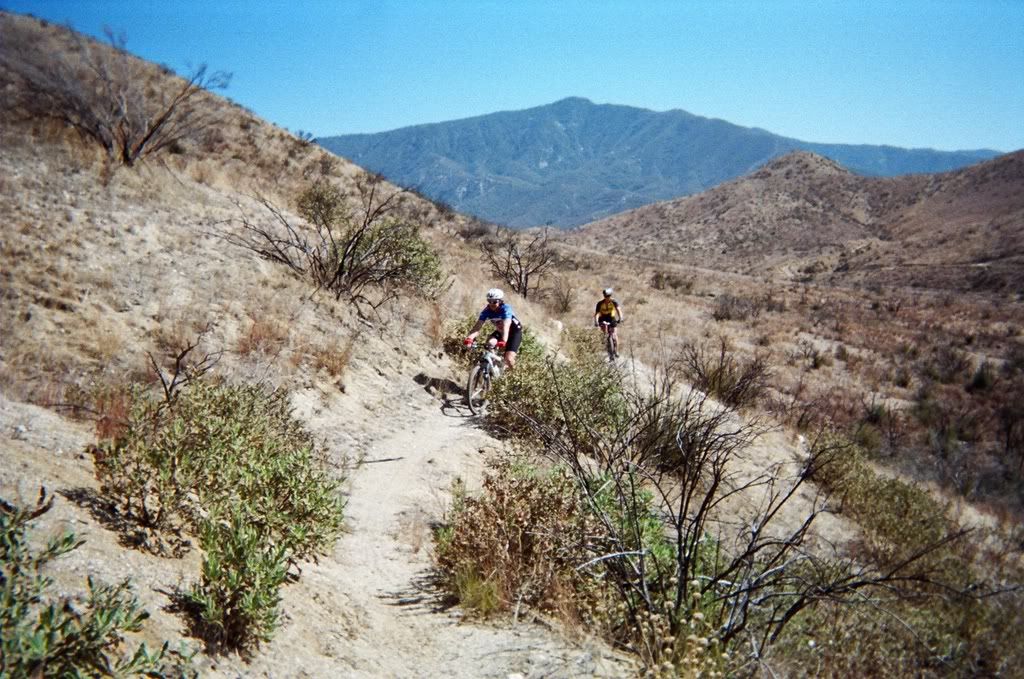 We're here!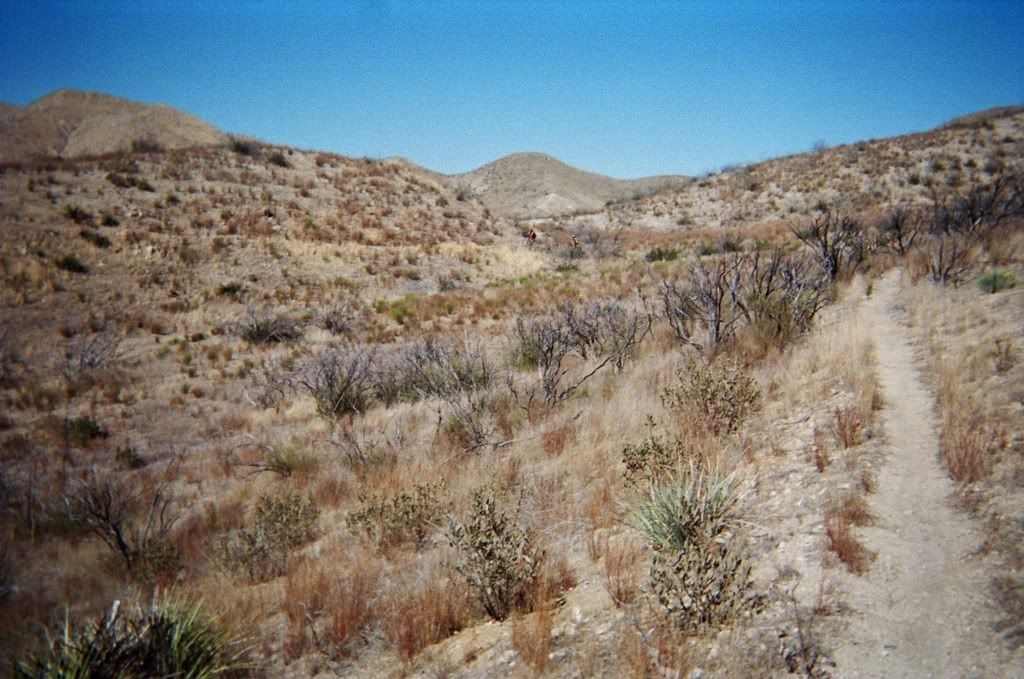 Look closely and you can see us in the distance. Excellent s/t!

Dave is telling a wild story and has lost control!

Deb working a switchback

Dave working the same switchback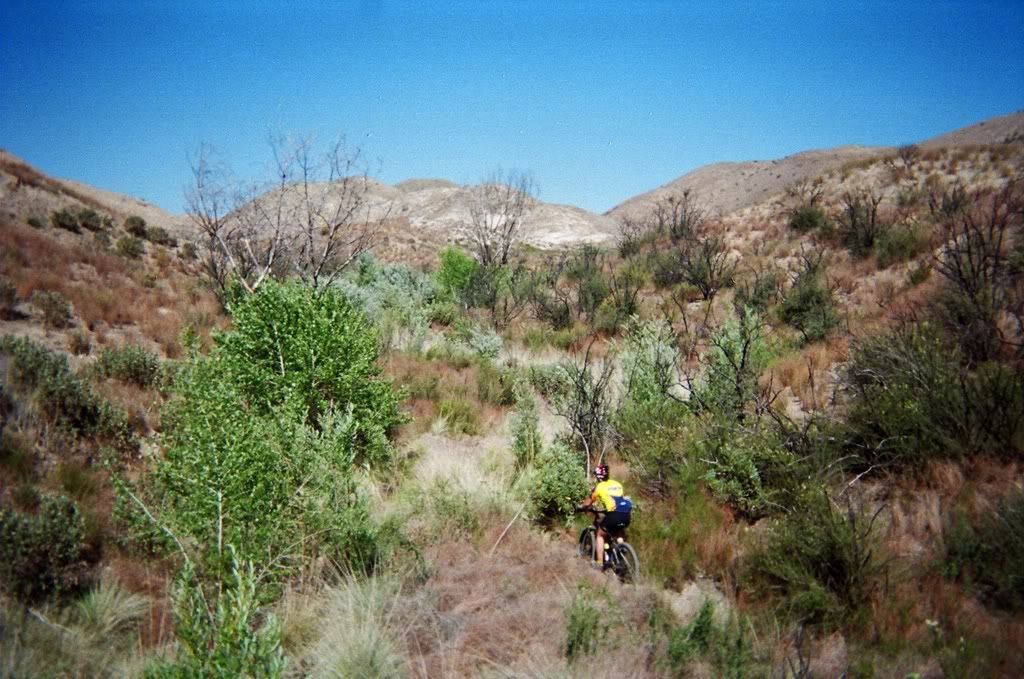 Deb going into the 'spring' canyon...

The very tough 'whiterock' ravine-back. Ya gotta steer just right and apply the power on the uphill, exiting out, just so. It's loose and sandy on the upside to boot, so too much and you spin out and not enough and you bonk. Deb and I didn't clean it that day....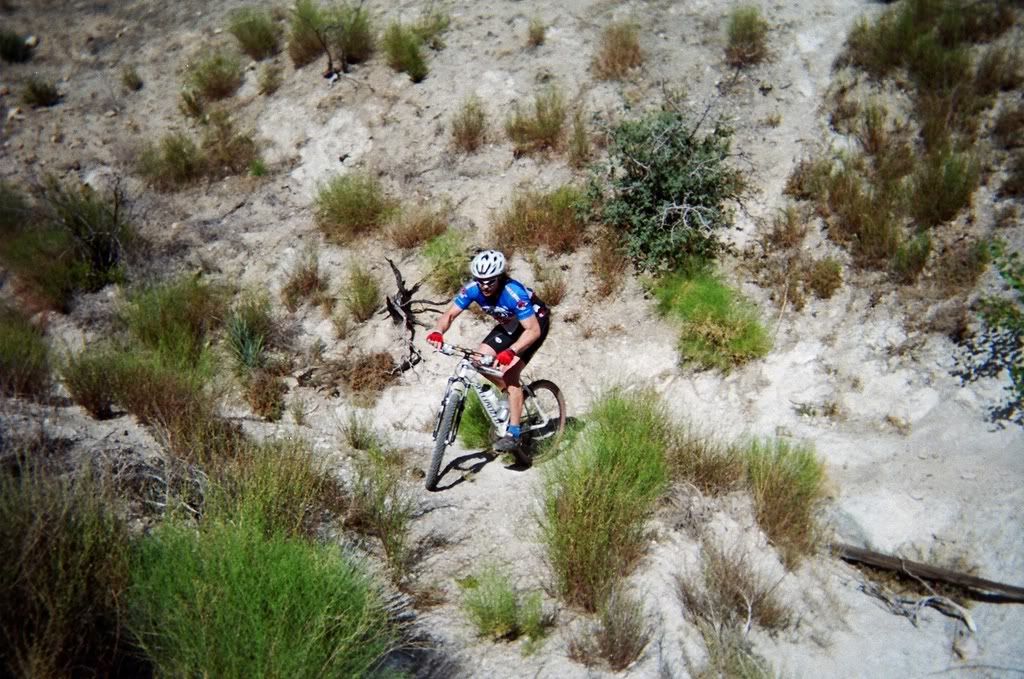 But Dave did! He had da' flow going!

Deb working the technical and embedded rock-infested 'second half'

Gotta stop for a hilltop photo: Deb and I.

Now the Stumpjumper bro's; Dave and I, with our hardtail Stumpy's (and we both have red and white S-works F/S bikes too, tho his is an Epic and mine is an FSR...)

continuing to ride the second half....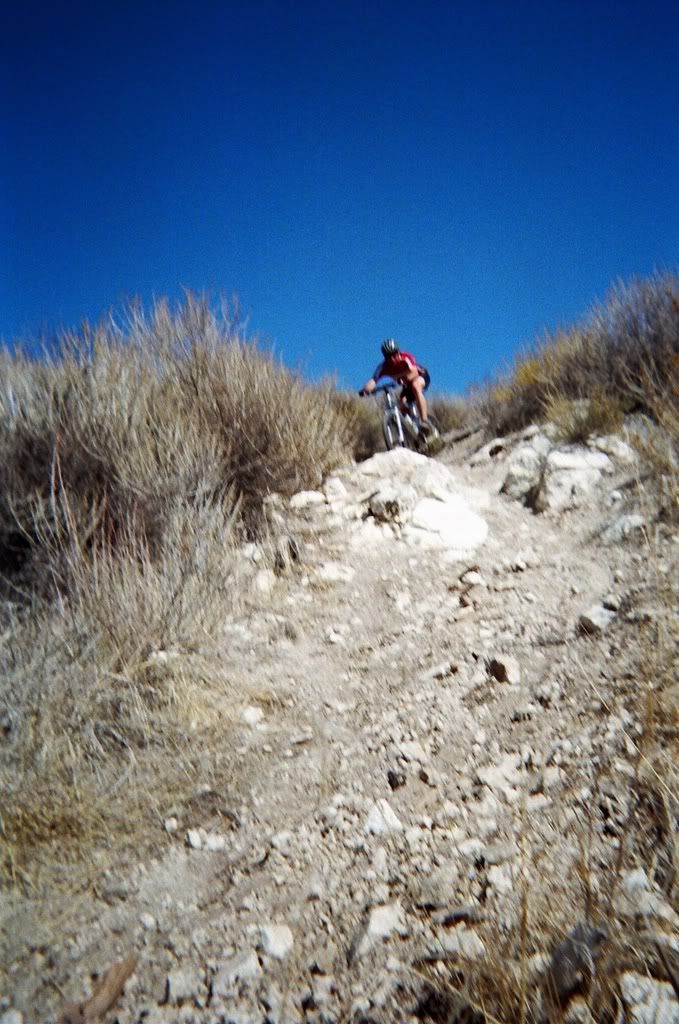 Yours truly, working the top of the infamous 'Death Chute'. You can see the six inch wide gap between the boulders at the top. You must put your front wheel, right there, tho' I have done over the boulders!

Best get waa-aay behind that seat! Note the height of the boulders to the front wheel and pedals.

Exiting out. To add to the fun, there's a very large bush, directly in your path, that you have to 'hula' around. Loose and rocky here too.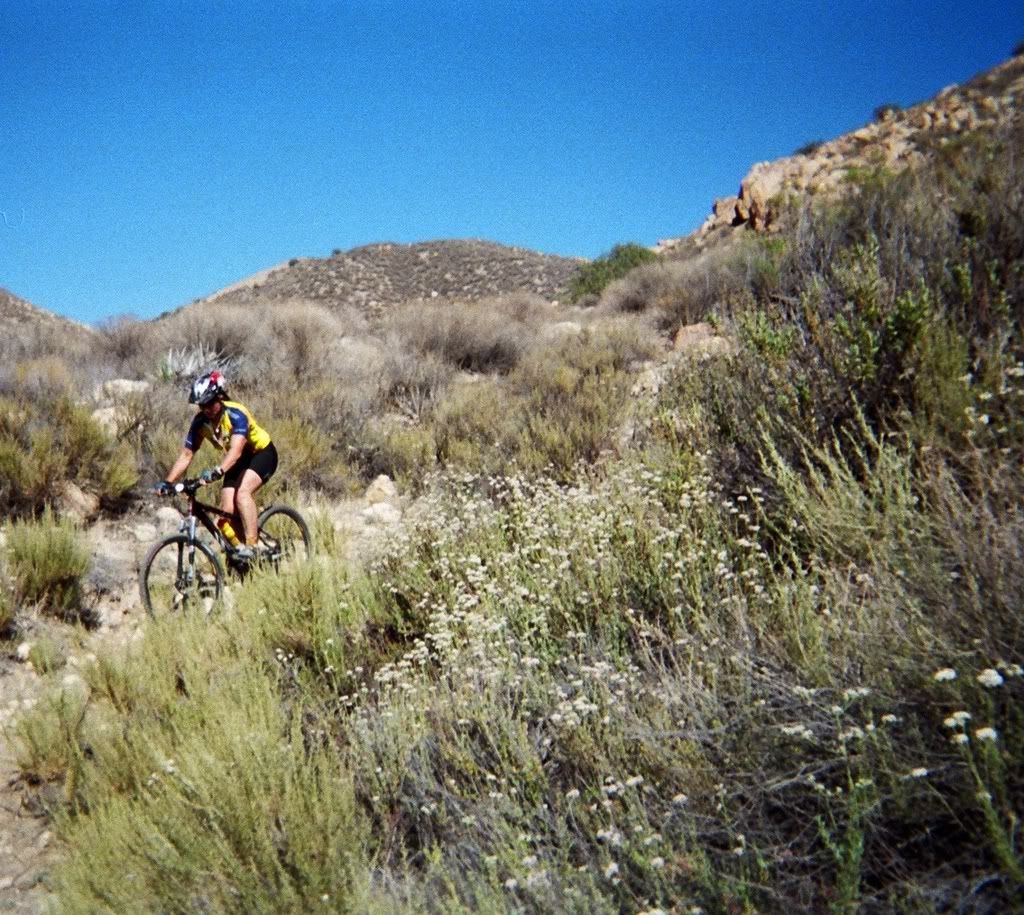 The final frontier! The last section of the second half, is a very technical rock-garden. You work the bike downhill, with the front wheel caroming off the rocks. Brake control, balance and momentum will get you through this.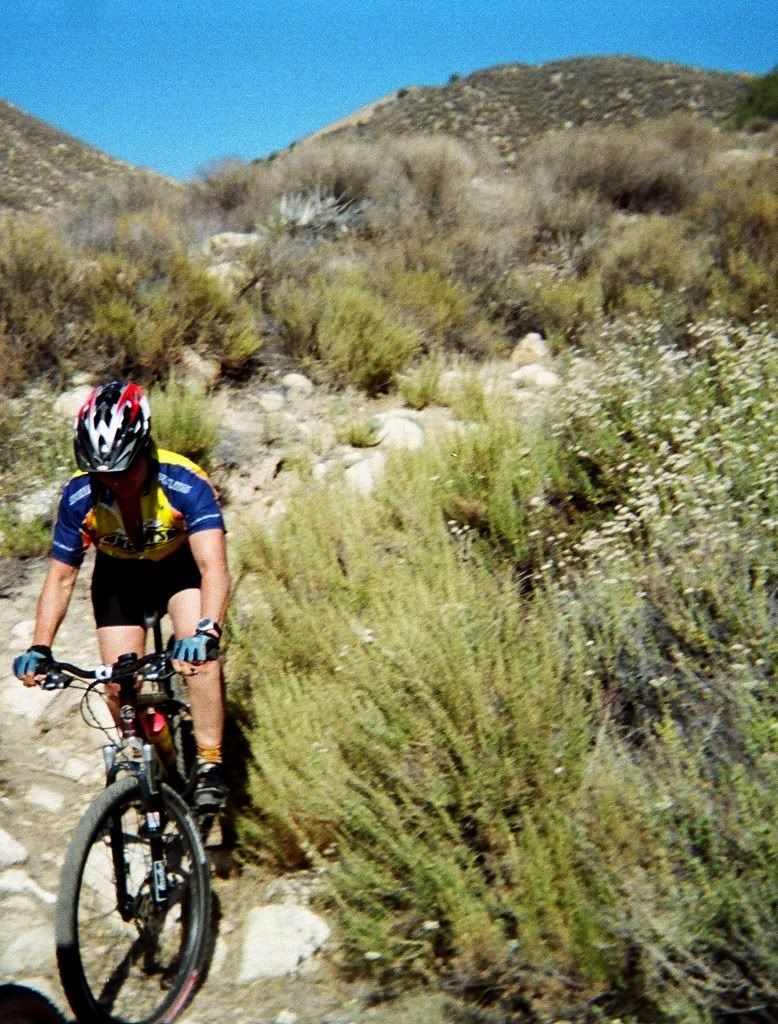 Finishing it off. And on Deb's old Diamondback Topanga hardtail! Her FSR Stumpy Pro was in the shop for a fork rebuild. It was like driving the ol' Studebaker, instead of the Corvette, but she did good.
Fin!
Posted by STP

a 48 year old Racer riding a 02' Specialized S-Works FSR from P'Dale on 07/31/07


Responses: (1) (2) (3) (4) (5) (6) (7) (8) (9) Post Reply
---
Great stuff man..as usual.

Those shots of the 'Death Chute' are great!

:)
Posted by Crzyridr33 a 35 year old Die-hard Enthusiast riding a very light bike on 07/31/07

Reply (to this)(main)

---

nice pics and write up, except pics of narrow minded FFW
Posted by Diamondback from Sunland on 07/31/07 Reply (to this)(main)

---

I was going to make comments on your ride, but was curious on why you took your daughter with you to ride. I just beagn taking my son with me on rides and he loves it...how does your daughter like mtbing?


Posted by GhostRider a 31 year old Downhiller on 08/01/07

Reply (to this)(main)

---

GR, ya gotta be kidding me, right? That's my girlfriend.
Posted by STP a 48 year old Racer riding a bunch o' bikes from P'Dale on 08/01/07 Reply (to this)(main)

---

I might not always tell the truth or have much to say, but I never "kid"...there in lies the rub!

As many times as you've mentioned her over the years, you'd think I would know that by now...... ;-)


Posted by GhostRider a 31 year old Downhiller on 08/01/07

Reply (to this)(main)

---

Nice to see! Definitely a good ride ;-) I hate those ravine S/B's. I always feel obligated to stack them at unannounced and spontaneous intervals, fast or slow. So, Debbie's your daughter; when are we going to see Debbie the bike racer and girl friend? Your daughter looks to be a very capable X/C rider; congrats' dad! Best & regards - Chain'er (I'm a huge fan of the inefficient apostrophe).
Posted by Chainsaw a Die-hard Enthusiast riding a Red, White and Blue or Black one from S&M/Bentwood on 08/04/07 Reply (to this)(main)

---

Regis,
PF called, something about getting his mustach back ;~P

Posted by Freaky franky riding a bush load of silk on 08/05/07 Reply (to this)(main)

---

Thanks for sharing STP. It is good to see the Prez out as well as the First Lady.
I am ALMOST ready to get out there and eat that trail up on my new bike.
Nice pix.
paz afuera
Posted by Papisimo a Die-hard Enthusiast riding a Gary Fisher Paragon 29er mofo from the streets of west la on 08/07/07 Reply (to this)(main)

---

i was VERY mad when you called the DB TOPANGA what you did. but oh well its my first expensive bikes and i know there are btter ones out there , i LOVE this bike. just wanted to see where this trail was. it looks awesome...how do i get to it comming from palmdale??
Posted by Joeicehockey a 27 year old Downhiller riding a DIAMONDBACK TOPANGA HARD TAIL from palmdale, ca on 07/14/08 Reply (to this)(main)

---
SoCalMtB.com - Your Internet Resource for Mountain Biking in Southern California.